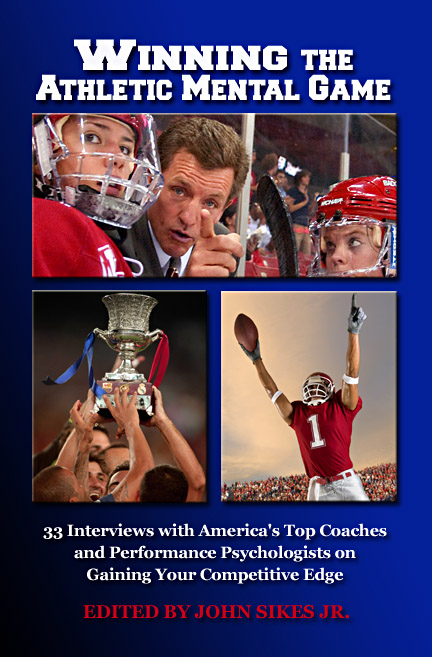 Get the Success Secrets of America's Top Coaches
In Winning the Athletic Mental Game, 21 of America's most successful coaches and 12 of the most respected performance psychologists offer their very best insights on what it takes to win in today's competitive environment. The interviews come from coaches who have produced

over 50 combined national titles

. The performance psychologists have helped thousands of athletes reach their full potential as players.
Retail: $45 Championship Performance Price $39
Exclusive Multi Copy Price Breaks: 2 -$35 each. 5 – $30 each. 10 – $25 each. 20 plus – $22 each.
Just a few highlights in the 33 chapters include:
• Lou Holtz: Essentials of Coaching Leadership
• Herb Brooks: Miracle Motivation
• Urban Meyer: Changing the Team Culture Fast
• Suzanne Yoculan: Visualizing Success Leads to 9   National Championships
• J. Robinson: Create a Unshakeable Belief System
• Frank Lenti: Maximum Motivation for the High School Athlete
• David Marsh: Turning Dreams into 12 National Titles
• Sue Enquist: Instilling a "Go for It" Spirit to Produce Champions
• Mike Bellotti: A to Z Program Building
 Click here for a full listing of all 33 Chapter Titles.
Read 3 Book Excerpts below:
1) J. Robinson: Creating an Unshakeable Belief System
2) Mike Bellotti: A to Z Program Building